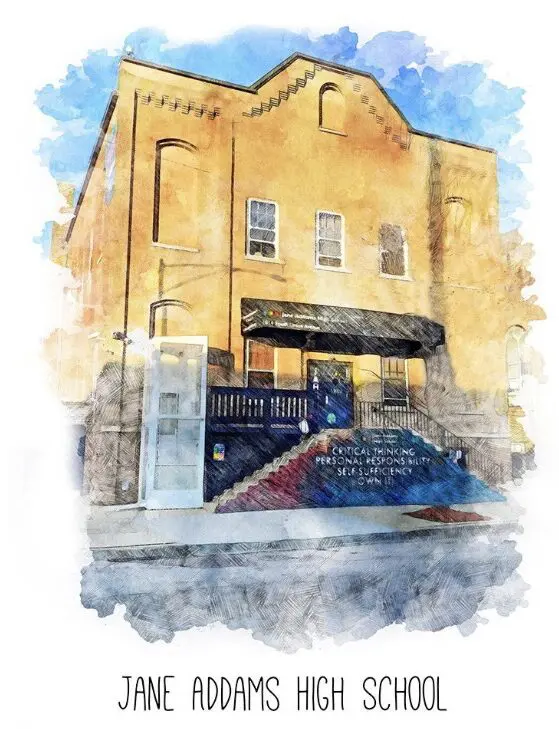 For further information contact Chicago Public Schools.
Jane Addams High School (JAHS) permanently closed on June 30, 2022.
Under the two decades leadership of Theresa Comparini, Jane Addams High School rose to a Level 1+ top ranked school. According to the Chicago Public School's "School Quality Rating Policy", JAHS consistently ranked in the top 10 public high schools within the City of Chicago. (https://www.cps.edu/about/district-data/metrics/sqrp/ )

Yet, after nearly 20 years of renting, without discussion and on short notice, St. Procopius Church & The Chicago Archdiocese refused to extend its lease with JAHS.
The Chicago Archdiocese, on behalf of St. Procopius Church, provided us with written notice that our lease would not be renewed because the building was being sold. We asked for a one-year lease extension to give us time to find a new building but our request was denied.
We later learned the truth ..... that the building was not being sold and instead, was being leased to a different school.
The replacement school brings their own students, their own staff, their own policies, procedures and their own mission & vision.  They are not owned, operated, or managed by Jane Addams High School.
As part of the history of the City of Chicago, Jane Addams High School will, we hope, serve as a model of what is possible when people dedicated to the value of a practical education invest their time and effort to create a safe learning environment where practical educational skill are emphasized, and excellence and success are the expectation.
We are sad to say "goodbye" to our Staff, Students, their families, and the community we have served so proudly and successfully for so many years. The achievements of our graduates will be our legacy, and the utilization of the skills they learned will be our hope for the future.
Farewell…..
Jane Addams High School